CAPT Virginia Blackman, PhD, RN, CNS, CCNS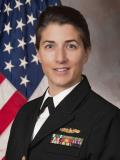 Specialty Leader for Nursing Research, US Navy Nurse Corps
Assistant Professor
Daniel K. Inouye Graduate School of Nursing
Uniformed Services University of Health Sciences
Bethesda, Md.
Captain Virginia Blackman is an assistant professor in the PhD in Nursing Science program at the Daniel K. Inouye Graduate School of Nursing, Uniformed Services University of the Health Sciences in Bethesda, MD. She earned her PhD in Nursing from the University of California, San Francisco. An adult critical care Clinical Nurse Specialist, her research interests are focused on nursing care of complex critically ill and injured patients and their families.
Financial relationships
There are no financial relationships to disclose.
Return to Pain and Trauma: A Foray into Military Nursing Research