Christopher VanFosson, PhD, MHA, RN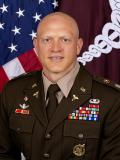 Colonel, Army Nurse
Chief, Center for Nursing Science and Clinical Inquiry
Brooke Army Medical Center
Joint Base San Antonio – Fort Sam Houston, Texas
COL VanFosson's clinical experience has focused on the care of critically injured and/or burned patients. He deployed in support of Operation Iraqi Freedom (2003-2004) with the 28th Combat Support Hospital, serving as a medical-surgical and burn/critical care nurse. He deployed in support of Operation Enduring Freedom (2010-2011) with the 541st Forward Surgical Team (Airborne). Other assignments included: Clinical Nurse Officer in Charge (CNOIC), US Army Institute of Surgical Research; CNOIC, General Leonard Wood Army Community Hospital; AMEDD Recruiter, US Army Recruiting Command; trauma/critical care nurse at Brooke Army Medical Center; and, medical-surgical nurse at Womack Army Medical Center.
In his current role, COL VanFosson focuses on the care of traumatically injured patients in operational and burn care environments, as well as improving clinician readiness. Additionally, he mentors nurses, physicians, and bench scientists seeking to engage in clinical research and evidence-based practice at the DoDs only Level 1 trauma center. Finally, COL VanFosson serves and the Consultant to The Surgeon General of the Army for Critical Care Nursing.
Financial relationships
There are no financial relationships to disclose.
Return to Improving Nurse Readiness for Combat Casualty Care