Army Maj. Amber Chew, D.O., S.A.M.F.E., F.A.C.O.G.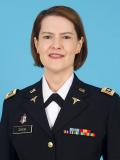 MAJ Amber Chew is a Board Certified Obstetrician and Gynecologist. She received her Bachelors of Science from the University of Georgia in 2000. She received her Doctorate of Osteopathic Medicine from the Philadelphia College of Osteopathic Medicine in 2013. She completed her residency in OB/GYN in 2017 at the Walter Reed National Military Medical Center in Bethesda, MD. She is an instructor of OB/GYN at the Uniformed Services University of the Health Sciences in Bethesda, MD. She was a staff OB/GYN at Ft. Belvoir Community Hospital, Ft. Belvoir, VA, prior to her current assignment in Korea. Dr. Chew also serves as the Sexual Assault Medical Director for the 65th Medical Brigade where she oversees the Sexual Assault Medical Forensic Examiner program.
Financial relationships
There are no financial relationships to disclose.
Return to Home Study - Jan 2020 CCSS S01: Ensuring Medical Readiness of our Female Soldiers Prior to Deployment