Army Col. Nicole Powell-Dunford, M.D.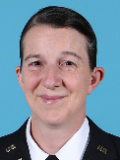 COL Nicole Powell-Dunford is the OTSG Consultant to the Army Surgeon General for Women's Health. She has an extensive publication and presentation history regarding women's health and operational medicine. She is currently assigned to the US Army School of Aviation Medicine.
Financial relationships
There are no financial relationships to disclose.
Return to Home Study - Jan 2020 CCSS S01: Ensuring Medical Readiness of our Female Soldiers Prior to Deployment