Michael Kavanaugh, M.S.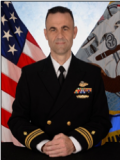 LCDR Kavanaugh was born in Tulsa, Oklahoma. He graduated from the University of North Texas in Denton, TX in 2005 with a Bachelor of Science. He worked as an Environmental Specialist and Vector Specialist at the City of Denton, TX from 2005 to 2006. During this time, he volunteered with the United States Geological Survey (USGS) conducting small mammal and bat surveys. He earned the United States Navy Health Services Scholarship Collegiate Program in 2006 and attended the University of North Texas. He achieved a Master's of Science, and was commissioned as a Medical Entomologist at the rank of Lieutenant Junior Grade.
After commissioning in 2008, he was selected to go to the Navy Entomology Center of Excellence (NECE) and deployed to Afghanistan with the 2nd Marine Expeditionary Brigade's first wave into the Helmand Province during Operation Khanjar. He then became the Assistant Officer in Charge (AOIC) of the Preventive Medicine Unit and one of a 12-member medical team that forward deployed to assist in building Camp Dwyer. During his deployment, he led a range of preventive medicine tasks, theater wide entomological support by providing vector surveillance and control, and assisted the Shock Trauma Platoon with patient movement. Upon his return to CONUS, he deployed on Continuing Promise 2010 aboard the USS IWO JIMA (LHD7) as the AOIC of the Preventive Medicine Directorate, working with the Ministries of Health in South and Central American countries in best preventive medicine strategies.
LCDR Kavanagh reported to Navy Environmental Preventive Medicine Unit FIVE where he was the Director for the Forward Deployable Preventive Medicine Unit in 2010. He ensured teams' readiness for deployment in worldwide operations as the Division Officer (DIVO) for Education and Training. He implemented the Catalog of Navy Training Courses (CANTRAC) and just-in-time training for deploying units.
In 2013, LCDR Kavanaugh was selected for Duty Under Instruction for the World Health Organization Collaborative Center at the Entomology Branch of the Centers for Disease Control and Prevention (CDC), at which time he was awarded a Deployed Warfighter Protection Program grant of $116k. He also developed the first prototype non-destructive permethrin test kit for military uniforms in response to a request from MARCOSYSCOM. While at the CDC, he became the Deputy DoD Liaison Officer to the CDC, during the Dugway Proving Grounds anthrax investigation. He also led the surveillance and insecticide resistance testing in Puerto Rico in response to the Zika outbreak, in preparation for future emergency response with the CDC and Puerto Rican Health Department.
LCDR Kavanaugh is currently stationed at the Armed Forces Pest Management Board where he is the Chief, Strategy and Information Division.
LCDR Kavanaugh's awards include the Navy Commendation Medal (four awards); Navy Achievement Medal (three awards); Presidential Unit Citation award, and other service awards.
Return to CCSS JUL 2020 S03 - Operational Entomology in the Department of Defense: Implications on Clinical Practice