Thomas DeGraba, M.D.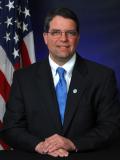 Thomas J. DeGraba, M.D., is the Chief Innovations Officer and Founding Deputy Directior at the National Intrepid Center of Excellence (NICoE), Walter Reed National Military Medical Center, Bethesda, Maryland. He is responsible for establishing and nurturing a culture of health care innovation and rapid translation of key medical advances into integrated best practices in support of warrior care.
Dr. DeGraba is a nationally recognized clinical neuroscience subject matter expert in Traumatic Brain Injury (TBI) and Psychological Health (PH) conditions, and has worked as a leader in the field of neurology, with a focus in brain injury and stroke, for over twenty five years. As the founding Deputy Director of the NICoE, he co-authored the concept of operations and led the team that developed and operationalized the patient centered interdisciplinary, holistic, intensive outpatient program (IOP) in 2010.
As Chief Innovations Officer, Dr. DeGraba is currently leading research efforts focused on identifying novel diagnostic biomarkers to measure the effects of treatment in TBI and Post Traumatic Stress Disorder, including genomic expression, cerebral and peripheral autonomic tone, and electrophysiological brain wave patterns as measured by magnetoencephalography. His research program has also shown that an IOP, including integrative medicine, results in significant improvement in recovery and long term durability of service members suffering from combat related TBI and PH conditions.
Prior to working at the NICoE, Dr. DeGraba served as Associate Professor of Neurology at the Uniformed Services University and the Head of the Clinical Stroke Program at the National Naval Medical Center. In this capacity he directed the Stroke Program of the Comprehensive Neuroscience Program and coordinated clinical research teams from the Department of Defense (DoD), the National Institutes of Health (NIH), and private academic medical centers. He also served as Senior Staff Fellow and head of the Clinical Stroke Research Unit in the Stroke Branch at NIH's National Institute of Neurological Disorder and Stroke (NINDS). During his time at NINDS, Dr. DeGraba established the first Intramural Clinical Stroke Program, directing research in the mechanisms of cerebrovascular disease related to immune-genetic susceptibility.
Dr. DeGraba served as a neurological consultant to the Office of the Attending Physicians at the U.S. Capitol and the White House Medical Unit for more than ten years. His Cerebrovascular Laboratory provided transcranial Doppler to the brain injury team caring for the severe head injured service members returning from Operation Enduring Freedom and Operation Iraqi Freedom.
Dr. DeGraba earned his bachelor's degree, Summa Cum Laude in Biochemistry, from the Catholic University of America and his M.D. from Georgetown University. He completed his medical internship at the Washington Hospital Center, Neurology Residency at Georgetown University Hospital, and a post-doctoral fellowship in Cerebrovascular Disease at the University of Texas (UT) Medical Center in Houston, where he also served as Assistant Professor and Chief of Service at the Lyndon B. Johnson Hospital of the UT-Houston Medical School.
Dr. DeGraba has served as a subject matter expert on the working group that developed the DoD Defense Health Agency War Fighters Brain Health Initiative, and serves on the NINDS Common Data Elements steering committees for Neurolgical disorders and TBI.
*Non-financial relationships: No non-financial relationships have been disclosed.
Financial relationships
There are no financial relationships to disclose.
Return to Clinical Communities Speaker Series: Health Innovations and Promising Practices 23-JUL-2020