Tara Reavey, RN, BSN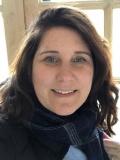 Ms. Reavey is Chief of the Policy and Program Management section of the DHA Immunization Healthcare Branch. She received her Bachelor of Science in Nursing from Georgetown University. Ms. Reavey is a former Army Public Health Nurse and upon leaving the Army joined the Military Vaccine Agency. She has been with the organization since 2006, serving as the prior Chief of Education and Training to her current role today.
Financial relationships
There are no financial relationships to disclose.
Return to Southern Hemisphere Influenza Vaccine Briefing