Army Lt. Col. Elizabeth Nutter, D.N.P., R.N., C.N.M., R.N.C.-O.B.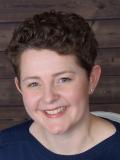 Dr. Nutter is an active duty Lieutenant Colonel serving in the Army. She is currently serving as the Chief of OBGYN Ambulatory Services & Midwifery Services at Madigan Army Medical Center. She is also the Women's Health Nursing Consultant to the Army Surgeon General. She received her commission in 2001 from the University of Portland, Oregon. She graduated with a Master in Nursing from Radford University, Virginia with a certificate of midwifery from Shenandoah University, Virginia in 2009. She completed a Doctor of Nursing Practice from Frontier Nursing University, Kentucky in 2013. The focus of her doctoral work is waterbirth. She has peer-reviewed articles and multiple book chapters on waterbirth published. She is the co-author of the American College of Nurse Midwives Model Practice Template for Hydrotherapy in Labor and Birth.
Financial relationships
There are no financial relationships to disclose.
Return to Home Study - Jan 2020 CCSS S04: PALM-COEIN Classification System for Abnormal Uterine Bleeding: Implications on Clinical Practice