Air Force Lt. Col. Dalia Wenckus, M.D., F.A.C.O.G.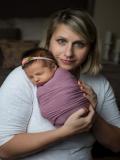 Lt Col Dalia J. Wenckus, MD graduated from the United States Air Force Academy and received her Bachelor of Science in 2001. She attended Loyola Stritch School of Medicine as part of the Health Professions Scholarship Program and received her Doctorate of Medicine in 2005. She came on active duty in 2005 and completed her internship and residency in Obstetrics and Gynecology at the San Antonio Uniformed Services Health Education Consortium. In her first year after graduation, she deployed to Haiti after the earthquake as part of Operation UNIFIED RESPONSE. When she returned, she began Maternal Fetal Medicine Fellowship training at University of Illinois at Chicago, and graduated Fellowship in 2013. Her first station after fellowship training was Wright Patterson Air Force Base where she undertook the role of Perinatal Clinic and L&D Director while running a Maternal Fetal Medicine Ultrasound Clinic and Complicated Obstetrics Clinic at Wright Patterson Medical Center until 2018.
Lt Col Wenckus is currently stationed at Fort Sam Houston and is a Maternal Fetal Medicine Staff Physician at Brooke Army Medical Center as well as an Assistant Professor of Obstetrics and Gynecology at the Uniformed Services University of the Health Sciences. She became the Maternal Fetal Medicine Consultant to the Air Force Surgeon General in 2019. She is board certified in Maternal Fetal Medicine and Obstetrics and Gynecology and is a Fellow in the American College of Obstetricians and Gynecologists. She lives in San Antonio with her spouse, 7 month old daughter, and two Havanese pups.
Financial relationships
There are no financial relationships to disclose.
Return to Home Study - Jan 2020 CCSS S03: Updates on Clinical Care Pathway for Induction of Labor, Venous Thromboembolism (VTE) Prevention and Postpartum Hemorrhage Management