Army Col. R Elaine Freeman, B.S.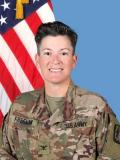 COL Freeman was commissioned through the Reserve Officer Training Corps (ROTC) as a Lieutenant of the Signal Corps following graduation from Arizona State University in 1995. COL Freeman's active duty assignments include: Battalion Signal Officer, Platoon Leader, and Company Executive Officer in Schofield Barracks, Hawaii; Assistant Operations Officer and Battalion Adjutant, Mannheim, Germany; Company Commander, Fort Hood, Texas and Iraq; Career Manager, Personnel Distribution Account Manager and Chief of Retirements and Separations Branch, U.S. Army Human Resources Command, Alexandria, VA; Battalion Commander, Warrior Transition Battalion, FT Benning, GA; Chief of Plans, Deputy Chief of Staff, Warrior Care and Transition, Arlington, VA. Her most recent assignment was as the Deputy G3, 335th Signal Command (Theater) (Provisional) located in Camp Arifjan, Kuwait. COL Freeman joined the United States Army Reserve (USAR) in 2009 and her assignments include Battalion Executive Officer, COB Speicher Iraq; Secretary to General Staff (SGS), Darien, Illinois; and Command and General Staff College Instructor, FT Knox, KY. COL Freeman currently serves as the Military Director for the Defense Advisory Committee on Women in the Services es (DACOWITS) located in Alexandria, VA.
Financial relationships
There are no financial relationships to disclose.
Return to Home Study - Jan 2020 CCSS S02: Recommendations and Initiatives in Women's Health from Select Agencies