Ashley Smith, M.D., M.B.A.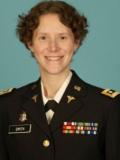 LTC Ashley Smith is an Army general pediatrician currently serving as the Chief of Pediatric Primary Care and Associate Program Director for the pediatric residency program and leader and faculty development fellowship program at Madigan Army Medical Center. She is passionate about primary care delivery, quality improvement, medical education and faculty development.
Non-financial relationships: No non-financial relationships have been disclosed.
Financial relationships
There are no financial relationships to disclose.
Return to APR 2022 CCSS S05: The Survey of Well-Being in Young Children (SWYC): Implementation and Lessons Learned from a Military Treatment Facility