Paul Patterson, M.D., Ph.D.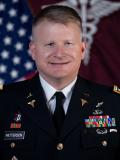 Paul Patterson, MD, PhD, is a board-certified pediatrician and board eligible developmental behavioral pediatrician. He is currently serving at Walter Reed National Military Medical Center as a developmental behavioral pediatrician and is an Assistant Professor of Pediatrics at the Uniformed Services University of the Health Sciences (USU).
With over 26 years of active-duty experience, LTC Patterson has led in diverse environments worldwide, including Korea, Iraq, Ethiopia, and Ukraine. He is particularly passionate about empowering parents and advocating for children. He is skilled at adopting new technologies for use in the management and diagnosis of a variety of conditions in children with a focus on autism and ADHD.
LTC Patterson holds an MD from USU, a PhD from The George Washington University in Electrical Engineering, and a B.S. from the United States Military Academy. He holds several patents, is a senior member of the Institute of Electrical and Electronics Engineers and is a Fellow of the American Academy of Pediatrics (AAP).
Non-financial relationships: No non-financial relationships have been disclosed.
Return to APR 2022 CCSS S05: The Survey of Well-Being in Young Children (SWYC): Implementation and Lessons Learned from a Military Treatment Facility