Brian Brennan, MD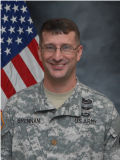 LTC Brian Brennan, M.D.
LTC Brian Brennan is the Chief of the Armed Forces Center for Child Protection at Water Reed National Military Medical Center in Bethesda, Maryland. He was born at Landstuhl Army Regional Medical Center and after completing his Bachelor's Degree in Chemistry and Life Science at the United States Military Academy, entered the Army in 1998 as an Armor Officer at Fort Knox, KY, serving six years in that capacity including postings at Fort Riley, Kansas, Grafenwoehr, Germany and Baghdad, Iraq. During his time as a combat arms officer, LTC Brennan served as a Tank Platoon Leader, Tank Company Executive Officer, USAREUR Training Plans Action Officer and Brigade Assistant Operations Officer.
In 2004, upon return from Iraq, LTC Brennan entered Medical School at the Tulane University School of Medicine in New Orleans, Louisiana. He graduated in 2008, and was assigned to Dwight D. Eisenhower Army Medical Center in Augusta, Georgia as a Transitional Intern. From there, he was assigned to the 1st Attack Reconnaissance Battalion, 1st Combat Aviation Brigade at Fort Riley, Kansas as a Battalion Flight Surgeon, which included another deployment to Iraq. From Fort Riley, LTC Brennan moved to Joint Base Lewis/McChord for Pediatric Residency, and upon graduation in 2015 was assigned to Fort Bragg as a General Pediatrician, eventually becoming the Chief of Pediatrics at Womack Army Medical Center.
After his tour at Fort Bragg, LTC Brennan was accepted to the Child Abuse and Maltreatment Fellowship at the Children's Hospital of Philadelphia, serving at that location from 2017 to 2020. He is currently board certified in General Pediatrics and board eligible in Child Abuse Pediatrics.
Return to DHA Forensic Healthcare Program Series – Child Abuse, 8 NOV 2021