Kenneth Romito, D.N.P., A.P.R.N., A.G.C.N.S.-B.C., C.N.O.R., C.S.S.M.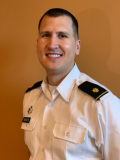 MAJ Romito received a Bachelor's Degree in Nursing from the University of Akron in 2008 and a Master's Degree in Nursing from Jacksonville University in 2014. He went on to earn a Doctorate Degree in Nursing Practice from the Daniel K. Inouye Graduate School of Nursing at the Uniformed Services University of the Health Sciences in 2019. MAJ Romito is a board certified Adult-Gerontology Clinical Nurse Specialist with a focus on perioperative nursing and a Certified Operating Room Registered Nurse. He is a Perioperative Clinical Nurse Specialist at the Center for Nursing Science and Clinical Inquiry at Tripler Army Medical Center.
Non-financial relationships: No non-financial relationships have been disclosed.
Financial relationships
There are no financial relationships to disclose.
Return to Home Study - Special Feature Webinar: Evidence-Based Methods for Sterility and High Level Disinfection Assurance: The Path to High Reliability