Jan Dockery, B.S.N., R.N., C.M.S.R.N.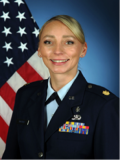 Major Jan M. Dockery currently serves as the Director of Operations, 383d TRS, Joint Base San Antonio – Fort Sam Houston, Texas. She advises and assists the commander on matters concerning the discipline, health, morale, welfare, and mentorship of more than 500 permanent party military, civilian, and student personnel and their families. She is also the Chief Consultant for Disease Management under the direction of the Air Force Surgeon General, where she directs standards of clinical practice for 189 nursing allocations as well as leads the Defense Health Agency (DHA) Disease Management Working Group, implementing Disease Management throughout the Military Health System (MHS). As the Disease Management Program Director, she instructs the only formal Disease Management introductory course.
Financial relationships
There are no financial relationships to disclose.
Return to Case Management and Medical Management Workshop: Day 4