Bryan Stepanenko, M.D., M.P.H., I.F.M.C.P.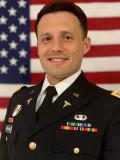 Board Certified in Family Medicine and Functional Medicine
Clinical Champion for Shared Medical Appointments (SMA) in the Military Health System
Teaching faculty for the DoD's only Functional Medicine training pathway through the National Capital Region Pain Initiative (NCRPI) based at Walter Reed National Military Medical Center.
Delivers Personalized Lifestyle & Integrative Medicine that addresses root cause dysfunction for the warfighter community
Educates on Military Operational Environment and Root Cause Dysfunction
Financial relationships
There are no financial relationships to disclose.
Return to CCSS JUL 2020 S08 - COVID-19 Response: Personal Protective Nutrition (PPN) & Personal Protective Lifestyle (PPL): Optimizing Performance, Readiness, and Resilience Home Study