Micah Kinney O.D., Ph.D., F.A.A.O.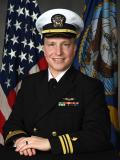 Lieutenant Commander Micah J. Kinney is a U.S. Navy Aerospace Optometrist. He holds a Doctor of Optometry and a Doctorate in Vision Science with an emphasis in human color vision, from the University of Alabama at Birmingham. Kinney accepted a commission as a Medical Service Corps (MSC) Officer, United States Navy, in May 2010 and completed flight training as the 30th U.S. Navy Aerospace Optometrist in February 2017. Kinney has completed over 200 hours of flight time in a variety of military rotary- and fixed-wing aircraft, and is the 2017 U.S. Navy Junior Optometrist of the Year and 2018 Naval Medicine Research and Development Enterprise Junior Officer of the Year. Currently, Kinney serves as the department head for the Naval Aerospace Medical Research Laboratory's Acceleration and Sensory Sciences Department, Naval Medical Research Unit Dayton, Wright-Patterson Air Force Base, Ohio. He has an extensive research portfolio that includes vision science, aviation human factors, aviation vision standards, and laser eye protection. Kinney's current research interests include color vision assessment for special-duty occupations, the impact of laser veiling glare on aviator human performance, return to duty guidance following reduced visual acuity, and human visual performance in chem-bio operating environments.
Areas of Expertise:
Aerospace Optometrist
Vision Science
Financial relationships
There are no financial relationships to disclose.
Return to CCSS JUL 2020 S06 - So You Want to be a Navy Pilot: A Case Based Approach to Aviation Vision Standards Home Study