Shari Gentry, M.D., M.H.A., F.A.A.F.P.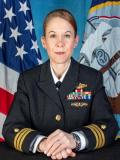 CDR Gentry began her naval career as a student at the University of Missouri-Kansas City School of Medicine in the Health Professions Scholarship Program. Upon completing a surgical internship at Walter Reed National Military Medical Center (WRNMMC) in 2005, she served as a General Medical Officer (GMO) in Okinawa, Japan. In 2007, CDR Gentry returned to medical education to complete residency training in Family Medicine at Naval Medical Center (NMC) Camp Lejeune.
CDR Gentry served as the Senior Medical Officer (SMO) for the Group Aid Station, 2nd Marine Logistics Group (MLG), Jacksonville, North Carolina from 2009-2012, where she also served as Regimental Surgeon for Combat Logistics Regiment-25 and deployed to Afghanistan with Combat Logistics Battalion-2. From 2012-2015, she served as a faculty member at the Family Medicine Training program at NMC Camp Lejeune. From 2015-2018, she served as the SMO for the Directorate of Primary Care at NMC Portsmouth. From 2018-2020, CDR Gentry served as the Commander, Amphibious Task Force Surgeon for the KEARSARGE Amphibious Ready Group and Officer in Charge of Fleet Surgical Team TWO.
Return to Sept 2020 CCSS S07: The Female Force Readiness Strategy: Increasing Medical Readiness, Resiliency and Retention of the Female Force