Steven Jones, M.P.H.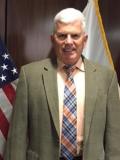 Mr. Steve Jones is a retired Army Environmental Science and Engineering Officer and senior consultant with over 41 years of medical, public health, and environmental health experience at all levels of the Department of Defense (DoD). Mr. Jones has extensive experience in deployed, humanitarian, disaster relief, and other operating environments at enduring and contingency locations, to include coordination with engineering, facilities, medical, environmental, and other base support managers. Mr. Jones is responsible for developing policy for force health protection, deployment health, occupational and environmental health, burn pits, individual medical readiness, comprehensive health surveillance, and biosurveillance. He is also responsible for advising on health issues related to garrison and deployment occupational and environmental exposures. Mr. Jones is currently the functional proponent for the joint DoD and Department of Veterans Affairs (VA) Individual Longitudinal Exposure Record (ILER).
Financial relationships
There are no financial relationships to disclose.
Return to Clinical Communities Speaker Series: Military Health Care: Select Promising Practices 24-SEPT-2020