Cecilia Najera, M.O.T.R./L.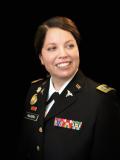 LTC Nájera is the Acting Director for the Army Traumatic Brain Injury Program, Office of The Surgeon General,  Falls Church, Virginia.  In this capacity, she is responsible for delivering solutions across the Army's TBI portfolio with respect to population health, strategic guidance for TBI research portfolios, and oversight of policy and healthcare delivery for traumatic brain injury. LTC Nájera earned her Master's degree in occupational therapy from the University of Texas Health & Science Center at San Antonio, Texas. Currently, she is a PhD candidate for the Rehabilitation Science program at the University of Maryland, Baltimore. Her previous military assignments include: William Beaumont Army Medical Center, Fort Bliss, Texas; 528th Combat Operational Stress Control, Fort Bragg, North Carolina; San Antonio Military Medical Center, Fort Sam Houston, Texas. From March 2008 to June 2009, LTC Nájera served a 15-month deployment in support of Operation Iraqi Freedom.
Non-financial relationships: No non-financial relationships have been disclosed.
Financial relationships
There are no financial relationships to disclose.
Return to Clinical Communities Speaker Series: Military Health Care: Select Promising Practices 24-SEPT-2020