Christofer Ecklund, Psy.D.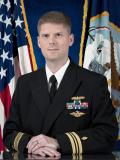 CDR Ecklund is the Section Head for Bureau of Medicine and Surgery (BUMED) Traumatic Brain Injury (TBI) programs. He is a licensed clinical psychologist and neuropsychologist. He received his Doctor of Psychology (Psy.D.) from the American School of Professional Psychology and completed a two-year post-doctoral fellowship in clinical neuropsychology from the University of California San Diego School Of Medicine. His previous military assignments include the Naval Branch Health Clinic Groton CT, USS HARRY S TRUMAN (CVN 75) and Naval Medical Center Portsmouth. He was previously deployed with the United States Marine Corps in Afghanistan and shipboard, both in support of Operation Enduring Freedom (OEF).
Non-financial relationships: No non-financial relationships have been disclosed.
Financial relationships
There are no financial relationships to disclose.
Return to Clinical Communities Speaker Series: Military Health Care: Select Promising Practices 24-SEPT-2020