Erik Rude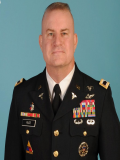 COL Erik G. Rude currently serves as the Deputy to the Deputy Assistant Director for Healthcare Operations at the Defense Health Agency (DHA). He entered active duty as an enlisted-man in 1984 and served in the enlisted ranks until 1991 when he received a Bachelor of Science Degree in Kinesiology from the University of Texas at Austin. He also graduated with honors from Webster University, earning a Master of Arts in Procurement and Acquisition Management. COL Rude completed the Reserve Officer Training Corps program as a Distinguished Military Graduate and received his commission in December of 1991. He is a graduate of numerous military courses focusing on Aviation, Acquisition, Logistics and Healthcare Executive Leadership, the Command and General Staff Officers Course at Fort Leavenworth, Kansas and Senior Service College as an Army War College Fellow at the Department of Veterans Affairs. He has served as a Commander at all Levels from CPT to COL, most recently he served as the Commander of William Beaumont Army Medical Center (WBAMC) in El Paso, TX. COL Rude has served honorably in his various assignments stateside as well as in Southwest Asia and Europe. The excellence he has demonstrated in his service to this country has been awarded through numerous awards including the Air Medal, Bronze Star and Legion of Merit.
Financial relationships
There are no financial relationships to disclose.
Return to Clinical Communities Speaker Series: Military Health Care: Select Promising Practices 24-SEPT-2020