Nicole Brown, D.P.T., O.C.S., S.C.S., T.P.S., C.S.C.S.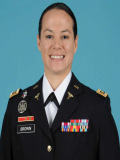 MAJ Brown is a Physical Therapist assigned to Brooke Army Medical Center, FT Sam Houston, TX. She is serving as the Chief of the Outpatient Physical Therapy Service consisting of five outpatient clinics in the San Antonio area. MAJ Nicole Brown is very passionate about pain neuroscience education. She is a Therapeutic Pain Specialist and currently a Pain Fellow in Training with Evidence in Motion. She has presented at several conferences, conducted continuing education courses and is a guest lecturer for the U.S. Army Baylor Doctorate of Physical Therapy program. While at Walter Reed Military Medical Center (WRNMCC), MAJ Brown played an integral part of the leadership team. She served as the Officer in Charge of the Amputee Physical Therapy Service for the Military Advanced Training Center and also served as the Deputy Chief of the Physical Therapy Service. She was handpicked to serve as physical therapy consultant to the White House. In this capacity, she dealt regularly with high level government officials either serving as their physical therapist or coordinating care. In 2017, MAJ Brown served as the physical therapy consultant to the Republic of Georgia for a military training team mission. MAJ Brown started a multidisciplinary pain management class, the only one of its kind in the National Capitol Region. Her civilian education includes a Bachelor's of Science in Education in Sports Science from the University of Kansas and a Doctorate in Physical Therapy from Baylor University. She has additional certifications as a Board Certified Orthopedic Clinical Specialist and Board Certified Sports Clinical Specialist. MAJ Brown also holds certifications as a Strength and Conditioning Specialist, and Level 1 and 2 Dry Needling.
Financial relationships
There are no financial relationships to disclose.
Return to Clinical Communities Speaker Series: Military Health Care: Select Promising Practices 24-SEPT-2020