Thomas Bayuk, D.O.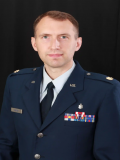 Dr. Thomas Bayuk is an active duty Air Force Neurologist currently working at the National Intrepid Center of Excellence (NICoE) in Bethesda. He completed his neurology residency at the San Antonio Military Medical Center in 2014 and went on to practice general neurology for four years before completing a one-year Sports Neurology fellowship at the Barrow Neurological Institute in Phoenix, AZ. Following completion of his fellowship in June 2019, Dr. Bayuk joined the staff at NICoE. Dr. Bayuk is the Traumatic Brain Injury (TBI) Consultant to the Air Force Surgeon General, and an active clinician specializing in the evaluation and management of concussion.
Non-financial relationships: No non-financial relationships have been disclosed.
Financial relationships
There are no financial relationships to disclose.
Return to Clinical Communities Speaker Series: Military Health Care: Select Promising Practices 24-SEPT-2020