Holly Jonely, P.T., Sc.D., A.T.-Ret.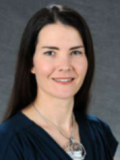 Dr. Jonely is a physical therapist with over 20 years of experience treating non-operative orthopedic and persistent pain clients. Currently she teaches graduate physical therapy students full time at The George Washington University and practices one day a week clinically at The International Spine Pain and Performance Center in Washington, DC. Dr. Jonely received her Master's Degree in Physical Therapy from Texas Tech University Health Sciences Center in 1999 and later her Doctor of Science in 2006. Dr. Jonely has also completed advanced training in manual therapy with the International Academy of Orthopedic Medicine (IAOM-US) and is a fellow of the American Academy of Orthopedic Manual Physical Therapists.
Financial relationships
There are no financial relationships to disclose.
Return to Home Study - May 2020 CCSS S01: Identifying and Managing Persistent Pain:  All Pain is Not Equal