Army Col. Michael McCown, D.O.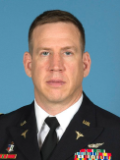 COL Michael McCown completed his pediatric residency at the National Capital Consortium in Bethesda, MD and his fellowship in Pediatric Pulmonary Medicine at Boston Children's Hospital in Boston, MA. He has been active in clinic pulmonology and hospital pediatrics. COL McCown is active contributor to multiple national organizations, serving as the Vice Chair of the Pediatric Core in the American Thoracic Society, and on committees developing Clinical Practice Guidelines for the Cystic Fibrosis Foundation.
Financial relationships
There are no financial relationships to disclose.
Return to Mar 2020 CCSS HS S02: Clearing the Haze: Adolescent Vaping and Associated Lung Injuries