Leila Hashemi, M.D., F.A.C.P.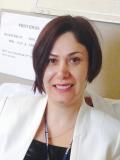 Dr. Leila Hashemi graduated from the Tehran University of Medical Sciences, School of Medicine in 2000 before completing a residency in Internal Medicine at Loma Linda University Medical Center in Loma Linda, California. Following her residency, she completed her Fellowship in Medical Education at the University of California, Los Angeles (UCLA) in Los Angeles, CA. Dr. Hashemi is a Primary Care Physician serving as the Director of Ambulatory Clerkships at the West Los Angeles, Veterans Affairs Hospital, located in Los Angeles, CA, and an Associate Professor of Medicine at the Davis Geffen School of Medicine located at UCLA. As Dr. Hashemi pursues her Masters of Science in Medical Research at UCLA (anticipated graduation date: 2021), she maintains her board certification as a physician through the American Board of Internal Medicine and her distinguished status as a Fellow with the American College of Physicians
Financial relationships
There are no financial relationships to disclose.
Return to May 2020 CCSS S06: Cardiovascular Health and Transgender Patients: Considerations for Primary Care Practitioners