Navy Capt. Natalie Wells, M.D., M.P.H.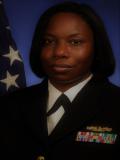 Captain Wells, commissioned through the Health Professions Scholarship Program, received her degree in allopathic medicine from the University of Maryland in 2000. She completed her General Preventive Medicine/Public Health residency in 2007. She serves as the Chief of Epidemiology and Analysis at the Armed Forces Health Surveillance Center in Silver Spring, Maryland. She oversees execution of many of the Department of Defense's leading epidemiological and behavioral health studies including the Millennium Cohort Study, the largest longitudinal study in military history. These research programs evaluate the effect of military service on the health and wellbeing of service members, veterans and their families.
Captain Wells is qualified as a Surface Warfare Medical Department Officer. Her personal awards include the Meritorious Service Medal (3 awards), Navy and Marine Corps Commendation Medal (4 awards), Army Commendation Medal, Joint Service Achievement Medal, Humanitarian Service Medal and other campaign awards.
Financial relationships
There are no financial relationships to disclose.
Return to Clinical Communities Speaker Series: Children and Youth: Advanced Practices for the Pediatric Health Care Provider 26-MAR-2020