Elke Zschaebitz, D.N.P., A.P.R.N., F.N.P.-B.C.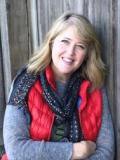 Elke Jones Zschaebitz is currently Assistant Professor at Georgetown University, teaching in the online FNP program. Prior to returning the U.S. in 2007 to teach at the University of Virginia, she was a school nurse at both Department of Defense Europe (DODDS-E) Bitburg and Vilseck high schools located in Germany where she was a former President of the Overseas School Health Nurse Association in 2004. She also worked as a volunteered credentialed NP in various family practice clinics between 1998-2007. In 2006, she received the Military Child Health Coalition's Scroll of Appreciation for Outstanding S2S Program. She has also worked at the Wilkinson Pediatric Clinic in Ft. Lee, as clinician and coordinator for the Exceptional Family Medical Program (EFMP). Her doctoral capstone in 2014, called Parent Perceptions of Mastery and Control in Military Families Who Have Children with Autism Spectrum Disorder was in response to the needs of these families at Ft. Lee.
Financial relationships
There are no financial relationships to disclose.
Return to Clinical Communities Speaker Series: Children and Youth: Advanced Practices for the Pediatric Health Care Provider 26-MAR-2020