Lynn Collins, M.B.A., M.S.N.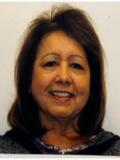 Lynn C. Collins currently serves as the Clinical Nurse Officer in Charge of the Bennett Army Medical Home at Fort Hood, Texas. She has served in this position since 2012. Previously, Ms. Collins served as the Chief of Nurse Midwifery at Fort Carson and Fort Hood before retiring from the Army with over 25 years of comprehensive health care experience.
Ms. Collins graduated from the University of Texas Medical Branch where she received a Master of Science in Nursing with a subspecialty in midwifery and earned a Master of Arts in Business Management from Touro International University.
A strong believer in the power of positive thinking and innovation in the workplace, Ms. Collins develops and advocates for wellness campaigns to improve the health and well-being of our military population.
Financial relationships
There are no financial relationships to disclose.
Return to Clinical Communities Speaker Series: Children and Youth: Advanced Practices for the Pediatric Health Care Provider 26-MAR-2020