Srihari Seshadri, Ph.D.,M.B.B.S, M.P.H.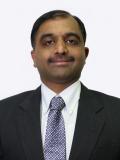 Dr. Srihari Seshadri currently serves as Team Lead for the Regulatory Investigations Office, Immunization Healthcare Division, Defense Health Agency, Falls Church, VA.
In his current position, he is involved with multiple vaccine safety/effectiveness studies. Dr. Seshadri completed medical school in India and served as a physician overseas. Upon completion of Masters in Public Health, he joined Barren River District Health Department (BRDHD), Bowling Green, KY as a Regional Epidemiologist. During his tenure at BRDHD, Sri was responsible for disease surveillance, outbreak investigation and led the agency's multi-disciplinary Epi Rapid Response Team.
Sri had been a preceptor for masters and doctoral practicum/internship in Public Health as well as a host-site supervisor for CDC's PHAP associates. Sri had collaborated with stakeholders on various public health initiatives to include improving HPV vaccination rate in the district. Sri has a PhD in Clinical and Translational Science and is recipient of KPHA's Career Achievement Award.
Financial relationships
There are no financial relationships to disclose.
Return to Clinical Communities Speaker Series: Children and Youth: Advanced Practices for the Pediatric Health Care Provider 26-MAR-2020