Dana Bowers, Esq.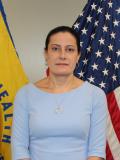 Dana M. Bowers received her undergraduate degree from the University of Florida in 2002, and her J.D. from Chicago-Kent College of Law in 2006. Her previous work experience includes serving as in-house counsel for West Virginia United Health System - an academic medical system located in Morgantown, West Virginia - where she provided legal counsel and litigation support to hospital staff regarding liability, medico-legal issues, licensure, and employment matters for System hospitals and associated clinics. Prior to that she practiced as a litigator in Chicago, Illinois for cases involving legal malpractice, construction negligence, industrial accidents, automobile accidents, insurance coverage, and premises liability. Ms. Bowers is licensed to practice in Illinois and West Virginia. She currently serves as Attorney-Advisor specializing in Healthcare Law for Walter Reed National Military Medical Center in Bethesda, Maryland.
Financial relationships
There are no financial relationships to disclose.
Return to Jan 2020 CCSS S05: Women's Health Issues and the Law