Ian Lee, D.Sc., M.B.A., M.H.A., P.T., F.A.A.O.M.P.T., F.A.C.H.E.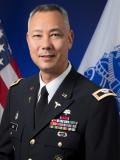 Army Col. Ian Lee has served 27 years as an Army Physical Therapist. His clinical assignments included Tripler Army Medical Center (AMC), 1/75 Ranger Regiment, Brooke AMC, Irwin Army Community Hospital (ACH), and Brian Allgood ACH. He completed fellowship training in the Army-Baylor Orthopaedic and Manual Physical Therapy Doctoral program in 2004. In 2012 he completed the Army-Baylor Master of Business Administration (MBA)/Master of Health Administration (MHA) program and went on to lead Continuous Process Improvement (CPI) at Walter Reed National Military Medical Center (WRNMMC) and the Medical Readiness Assessment Tool (MRAT) development and fielding at the U.S. Army Medical Command (MEDCOM) G8.
As a staff officer at the Office of the Surgeon General (OTSG) in 2016, his responsibilities included growing the new Military Orthopaedic and Tracking Injuries Network (MOTION) initiative. MOTION provided the first opportunity for the neuromusculoskeletal (NMSK) community to develop a meaningful CPI program at the enterprise level by combining patient reported outcomes (PROs) and screening data with descriptive and prognostic data entered by clinicians. COL Lee continues to serve as an administrative clinician leader, design consultant, collaborator, and data strategist with the Defense Health Agency (DHA), Defense Healthcare Management Systems (DHMS) and the Military Services in pursuit of data driven approaches to continuously improve service member medical readiness, Military Health System (MHS) care quality and value.

Return to OCT 2022 CCSS HS S06: The Adoption of Patient-Reported Outcomes Across the MHS with Lessons Learned from the Musculoskeletal Community