Meghan Quinn, M.D.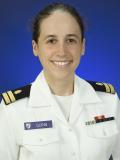 Navy Lt. Meghan Quinn, M.D., is a graduating psychiatry resident in the National Capital Consortium Psychiatry Residency program. She is a graduate of both the Uniformed Services University of the Health Sciences (USU) and the University of Maryland, College Park. She has authored four peer-reviewed journal articles and presented at multiple conference with national and international attendance. She is the 2022 recipient of the Al Glass Award for Excellence in Military Medical Research. LT Quinn has been inducted into the USU chapters of both Alpha Omega Alpha and the Gold Humanism Honor Society.
Financial relationships
There are no financial relationships to disclose.
Return to OCT 2022 CCSS HS S01: The Dual Roles of Military Psychiatrists: Ethical Considerations of the HIPAA Military Command Exception