Samuel Richards, D.D.S., M.S., F.A.C.P.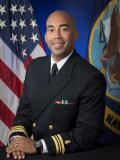 Lieutenant Commander (LCDR) Samuel Richards was born in Oyster Bay, New York, but calls Virginia Beach, Virginia, where spent all of his school-age years, home. After graduating from James Madison University with a Bachelor of Science in Health Sciences, he attained his Doctor of Dental Surgery Degree (DDS) at the University of Maryland, School of Dentistry (UMSOD) via the Health Professions Scholarship Program (HPSP). He remained at UMSOD to complete a PGY-3 Advanced Specialty Education in Prosthodontics program after being selected for additional postgraduate studies via the Duty Under Instruction (DUINS) Full Time Out-Service (FTOS) program.
His first duty station was Naval Medical Center, Portsmouth, VA where he performed the duties of a Staff Prosthodontist within Branch Health Clinic, Norfolk, VA. There, he also served as Deputy Director of the Advanced Education in General Dentistry DUINS PGY-1 Program as well as the clinic's Department Head of Comprehensive Dentistry.
LCDR Richards was selected for sub-specialty training in the DUINS Full Time In-Service (FTIS) program of Maxillofacial Prosthetics, and in June 2018, began his 1-year fellowship in Maxillofacial Prosthetics at the Naval Postgraduate Dental School (NPDS). Throughout his subspecialty training, LCDR Richards took on serval roles within the school to include NPDS Implant Board Committee member, NPDS Pre-surgical Conference Committee member, and Walter Reed National Military Medical Center (WRNMMC) Head and Neck Tumor Board member. While at NPDS, he also exercised his passion for education through various DOD and non-DOD lead lecture series and conference presentations, regular involvement with the NPDS's DUINS PGY-3 Prosthodontics Program and two research projects related to 3D printing advancements specific to patients with maxillofacial prosthetic needs.
After completing his sub-specialty training in June 2019, LCDR Richards reported to WRNMMC, where he served as its Deputy Director of Dental Services, Deputy Director of DUINS PGY-1 General Practice Residency program and Staff Maxillofacial Prosthodontist within WRNMMC's Hospital Dentistry Department. He currently serves as an instructor and Chair of Fixed Prosthodontics for the Naval Postgraduate Dental School, Bethesda, MD.
Lieutenant Commander Richards is a diplomate of the American Board of Prosthodontics and his personal decorations and military awards include The Joint Service Achievement Medal and The Navy and Marine Corps Commendation Medal.
Financial relationships
There are no financial relationships to disclose.
Return to SEP 2022 CCSS S02: Anaplastology and Dental Maxillofacial Prosthetics in Military Health Care: Changing Lives One Appointment at a Time