Louis Gilbert, B.C.O.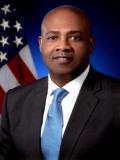 Louis Gilbert is a military-trained Anaplastologist and one of the foremost experts in the field of Dental and Maxillofacial prosthetics. He obtained his certification in Dental Laboratory Technology from the Naval School of Dental Assistants and Technology, San Diego, California in 1994 and his certification in Maxillofacial Prosthetics from the Naval Postgraduate School Bethesda, MD in 2000. Mr. Gilbert deployed 3 times to the Persian Gulf as Leading Petty Officer onboard the USS George Washington (CVN-73).
He then served as staff Anaplastologist and Leading Petty Officer at Naval Medical Center, Portsmouth, Virginia prior to retiring from his 20-year military career in 2005. Mr. Gilbert joined the staff of Walter Reed Army Medical Center in 2006 as the only Anaplastologist in the Department of the Army in support of OIF/OEF. His role included establishing and operating the Ocular Restoration Clinic providing essential care to Wounded Warriors. Since 2011, Mr. Gilbert has expanded the scope of care at Walter Reed National Military Medical Center Bethesda, MD to include but not limited to Active duty, retired personnel, Veterans, Pediatric patients with congenital defects and all eligible beneficiaries.
He currently serves as 1 of 2 Anaplastologist at Walter Reed. He is an in-demand speaker in his field and holds the following professional memberships: International Anaplastology Association; American Society of Ocularist .
Financial relationships
There are no financial relationships to disclose.
Return to SEP 2022 CCSS S02: Anaplastology and Dental Maxillofacial Prosthetics in Military Health Care: Changing Lives One Appointment at a Time