Laurie Migliore, Ph.D., M.S.N.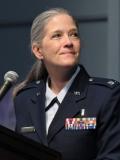 Air Force Colonel Laurie Migliore is the Director of Nursing Research and Center of Clinical Inquiry at the 59th Medical Wing, Office of the Chief Scientist, Science & Technology, Joint Base San Antonio, Lackland, AFB, Texas. Col Migliore's primary research endeavors focus on a variety of military health priorities in the domains of psychological health, deployment health and translational science. Her research passion is understanding and characterizing cognitive models of military identity and exploring relationships between core cognitive identity attributes, strength of military identity, and psychological well-being. Her work also includes studies exploring optimal mattress surfaces to reduce pressure injuries during aeromedical evacuation, long-term health outcomes of aeromedically evacuated patients, transport considerations for psychologically injured patients returned from war, and social network analysis of military researchers to identify collaborative trends to advance science.
Col Migliore leads teams in creating, translating, and implementing, evidence into military health care practices. She recently led several COVID-19 efforts, as a medical intelligence team lead; investigating the psychological impact of COVID-19 on coping strategies of deployed health care workers; and, development of a COVID-19 palliative care toolkit for military facilities without palliative care staff. Col Migliore has collaborative relationships with investigators from Uniformed Services University, University of Michigan, Ohio State University, Tripler and Fort Bragg Army Medical Centers, and the TriService Nursing Research Program and 711th HPW. She is a member of the Association for Psychological Sciences since 2013. Col Migliore is an expert in agility and adapting to the needs of the military research community.
EDUCATION
Ph.D., Uniformed Services University, Bethesda, MD 2015
M.S., Wright State University, Dayton, OH 2007
B.S.N., University of Pittsburgh, Pittsburgh, PA 1988
Financial relationships
There are no financial relationships to disclose.
Return to S06: COVID-19 Palliative Care Toolkit: Pandemic Use and Beyond