Sarah Huffman, Ph.D., C.C.N.S., A.C.N.P.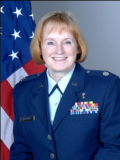 Lt Col Huffman, Ph.D., C.C.N.S., A.C.N.P. is currently assigned to Travis Air Force Base (AFB), Calif. as the Director of Biobehavioral Research. Lt Col Huffman was previously assigned at Wright Patterson Air Force Base in Ohio as a nurse scientist in the Airman Biosciences Division, En Route Care Research at the 711th Human Performance Wing, and as Director of the Clinical Investigations Facility at the 88th Medical Group. Other former military assignments include Travis AFB, Calif. as a medical/surgical critical care nurse; Langley AFB, VA as the Emergency Department nurse manager; and Joint Base Elmendorf Richardson, AK as a critical care Clinical Nurse Specialist. Additionally, Lt Col Huffman completed two Air Force Institute of Technology (AFIT) student assignments and five deployments as a critical care nurse in support of Operation Iraqi Freedom (OIF)/Operation Enduring Freedom (OEF)/Operation New Dawn (OND). Other recent deployments include Ground Surgical team nurse in support of Operation JUNIPER SHIELD and later as a pre-deployment site survey lead for ARNORTH Joint Task Force—civil authority during the COVID surge.
Lt Col Huffman earned a Bachelor of Science Degree in nursing from the University of Texas, a Master's Degree with a focus on critical care nursing from the University of Virginia with certification as a critical care Clinical Nurse Specialist and Acute Care Nurse Practitioner, and in 2017 a Ph.D. in nursing from Uniformed Services University, Bethesda, MD.
Lt Col Huffman's current active research studies include "Adaptive Triage: A Prototype of Complex Military Medical-Decision-Making in Real Time Mass Casualty" and "Resilience in Special Operations Surgical Teams," which focus on performance improvement and readiness among combat casualty care teams in austere environments. Other research interests include social network analysis, communication and decision making in small medical teams, and the biopsychosocial-spiritual attributes of readiness and resilience that may enhance or degrade performance in En Route Combat Casualty Care (ERCCC) providers.
Lt Col Huffman's current research includes readiness and resilience, triage in austere environments, ethics, and medical decision-making. As the first dual nurse scientist, she collaborates between the 88th Medical Group and the 711th Human Performance Wing, Warfighter Optimization Division, Center for Clinical Inquiry bridging the gap between science, technology, and patient care.
Lt Col Huffman is an Air Force Nurse Scientist leading biobehavioral and operational readiness research. She is the Leader of the TriService Nursing Research Program (TSNRP) Biobehavioral Research Interest Group and Directs Air Force Medical Service (AFMS) Clinical Inquiry in Nursing Readiness fellowship.
Financial relationships
There are no financial relationships to disclose.
Return to S06: COVID-19 Palliative Care Toolkit: Pandemic Use and Beyond