Richard Malish, M.D., M.B.A., F.A.C.C., F.A.C.P.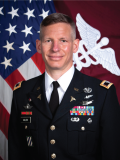 Army Col. Richard Malish, M.D., M.B.A., F.A.C.C., F.A.C.P. graduated from Johns Hopkins University with a bachelor's degree in Biology where he was elected into the Phi Beta Kappa honor society. He then earned his Doctor of Medicine degree from the Uniformed Services University of the Health Sciences where he was a member of Alpha Omega Alpha honor medical society.
After graduation, he completed a transitional internship at Madigan Army Medical Center before embarking on a career that mixed academic and operational experiences. COL Malish graduated from Brooke Army Medical Center's Internal Medicine Residency, earning honors as the "Most Outstanding Senior Resident." He then trained in Cardiology at Walter Reed Army Medical Center.
Other academic highlights include earning Master's degrees in Military Arts and Sciences and in Business Administration from the Command and General Staff College. Additionally, he was awarded the General George C. Marshall (White Briefcase) Award identifying him as the Distinguished Graduate. He then attended the Army War College where he was a Distinguished Graduate and winner of the Army War College Foundation Award for Outstanding Program Research Project.
In operational endeavors, COL Malish was the Battalion Surgeon for 3rd Battalion, 5th Special Forces Group (Airborne). He served as Brigade Surgeon for the 173rd Airborne Brigade and accompanied his unit on its combat deployment to Iraq.
After his deployment, COL Malish was assigned to Womack Army Medical Center where he served as the Chief of Cardiology Testing. He deployed to Honduras as a flight surgeon. COL Malish's next operational assignment was with the 3rd Infantry Division Surgeon where he returned to Iraq for a second deployment.
His command assignments include serving as Deputy Commander for Clinical Services, Winn Army Community Hospital; Commander, Army Health Clinic – SOUTHCOM; and Commander, U.S. Army Aeromedical Research Lab. Prior to accepting command at Carl R. Darnall Army Medical Center, he served as the Army Surgeon General's Deputy Chief of Staff for Quality and Safety.
COL Malish is board certified in Internal Medicine and Cardiology. He is the lead author of several articles in operational medicine. His awards include the Legion of Merit Medal, Meritorious Service Medal with six oak leaf clusters, Joint Service Commendation Medal, Army Commendation Medal with two oak leaf clusters, Joint Service Achievement Medal with two oak leaf clusters, the Army Achievement Medal with one oak leaf cluster, and the Humanitarian Service Medal. His badges include the Combat Medical Badge, Airborne Wings with Combat Jump, Bronze Service Star, the Expert Medical Field Badge, Flight Surgeon Wings, Air Assault Wings, the Space Badge, and the Dive Medical Officer Badge. COL Malish also was inducted into the Order of Military Medical Merit.
Financial relationships
There are no financial relationships to disclose.
Return to S04: Achieving the Promise of Value-based Medicine through Strict Adherence to the Incentives Engendered by Capitation