Susan Garstang, M.D.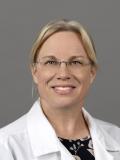 Susan Garstang, M.D. is a Clinical Associate Professor of Physical Medicine & Rehabilitation (PM&R) at University of Utah Medical School, and the Associate Chief of Staff for Academic Affiliations at the Veterans Affairs Salt Lake City (VASLC) Healthcare System, where she is also a staff physician in PM&R. Dr. Garstang received her medical degree from Washington University School of Medicine, followed by residency in PM&R at Baylor College of Medicine in Houston and a fellowship in spinal cord injury medicine at Kessler Institute of Rehabilitation at Rutgers-New Jersey Medical School. She is certified in PM&R and also holds subspecialty certifications in spinal cord injury medicine and brain injury medicine. She worked in academia until 2009, when she transferred to the VA New Jersey Healthcare System to provide care for veterans and continue teaching residents and students.
Dr. Garstang is a founding member of the Salt Lake City Women's Musculoskeletal Training Team, who with support of the Office of Women's Health (WH) developed a WH Musculoskeletal (MSK) training for Primary Care Providers (PCPs), which has been taught nationally since 2017. She teaches MSK care to Nurse Practitioners (NP), NP students, and NP residents, medical students and PM&R residents, and our primary care providers. In her clinical practice, Dr. Garstang's focus is musculoskeletal medicine (including a women veterans MSK clinic), treatment of widespread pain syndromes, headache management, and the care of veterans with spinal cord injury, stroke, spasticity, and amyotrophic lateral sclerosis (ALS).
23 June CCSS Session 03: Presenter will discuss off-label use of gabapentin, amitriptyline, tramadol, loratadine, famotidine, tizanidine, and cromolyn for the management of musculoskeletal pain.
Financial relationships
There are no financial relationships to disclose.
Return to JUN 2022 CCSS: Enhancing Primary Care: Refining Proficiencies to Improve Patient Outcomes