Laura Taylor, Ph.D., R.N., A.N.E.F., F.A.A.N.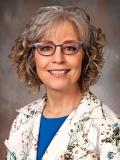 With 28 years in the transplant nursing/community, Laura A. Taylor, Ph.D., R.N., A.N.E.F., F.A.A.N. has earned national and international recognition as a strong leader who shapes practice, policy and education, and advances evidence-based transplant healthcare. The focus of Dr. Taylor's work has been in the area of abdominal organ transplant care, and her achievements are centered on using best evidence to inform practice, influence policy to improve patient and family outcomes, design studies and technologies that advance transplant science, and create inter-professional collaborations
Dr. Taylor leads research teams that drive policy relative to key issues surrounding the care of vulnerable transplant populations globally. She has researched the impact of social media, information technology, and inter-professional partnerships on the care of this vulnerable population. She has influenced health care system change to optimize organ donation and patient outcomes. Dr. Taylor's scholarship integrates pioneering technology-based innovations, rigorous scientific methods, inter-professional collaboration, and focused orientation on the advancement of global transplant care and nursing education.
Financial relationships
There are no financial relationships to disclose.
Return to JUN 2022 CCSS: Enhancing Primary Care: Refining Proficiencies to Improve Patient Outcomes