Lisa Mondzelewski, M.D., M.P.H.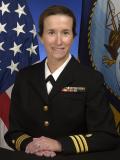 CDR Lisa Mondzelewski graduated with honors from the United States Naval Academy in May 1999 and then she graduated from the Uniformed Services University of the Health Sciences (USUHS) in 2003. She went on to complete her pediatric residency at the Naval Medical Center, San Diego (NMCSD) and was selected as Chief Resident for the Pediatric Program in her final year of training.
Following graduation from residency in 2006, CDR Mondzelewski served as general pediatrics faculty at the Naval Hospital Camp Pendleton and NMCSD, before accepting overseas orders to Naval Hospital, Okinawa Japan in 2010.
In 2012, CDR Mondzelewski was competitively selected for training in Academic General Pediatrics. She completed her fellowship at the University of California, San Diego, earning a Master's Degree in Public Health at San Diego State University.
CDR Mondzelewski is a Fellow of the American Academy of Pediatrics (AAP). She is first author on multiple peer-reviewed publications in Hospital Pediatrics and Pediatric Dermatology, and has presented her scientific research and quality improvement initiatives at local, regional and national meetings. She is a two time winner of the Leo J. Geppert Research Award, presented at the annual AAP Section on Uniformed Services, meeting. She is a Clinical Associate Professor of Pediatrics at Uniform Services University of the Health Sciences (USUHS), and has received recognition as a Master Clinician at NMCSD.
In 2011 she was recognized as the AAP Uniformed Services Chapter West, Pediatrician of the Year. CDR Mondzelewski currently serves as Program Director for the Pediatric Residency Program at NMCSD.
Non-financial relationships: No non-financial relationships have been disclosed.
Financial relationships
There are no financial relationships to disclose.
Return to APR 2022 CCSS S08: The Social Determinants of Health Model: Updated Clinical Applications for Military Children and Youth