Kelly Smith, L.C.S.W.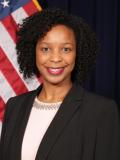 Kelly Smith serves as Associate Director for Military Community Support Programs within the Office of the Deputy Assistant Secretary of Defense for Military Community and Family Policy. She leads the Outreach and Engagement team for three centrally funded Department of Defense multimillion dollar programs – Military OneSource, Military and Family Life Counseling, and the Spouse Education and Career Opportunities Program.
Before joining the Office of the Secretary of Defense, Ms. Smith served as the Family Advocacy Program (FAP) Manager with the Department of Army where she was responsible for Joint Base Myer-Henderson Hall's domestic violence and child abuse prevention program. She also worked as a FAP clinician for the U.S. Marine Corps. Prior to joining the Federal workforce, Ms. Smith worked for a non-profit agency providing post-adoption reunion support and home and school-based mental health services. She continues to have a passion for reducing barriers to help-seeking and the study of organizational psychology.
Ms. Smith is a wife, mother of two small children, and proud daughter of retired Airman and sister of a Marine.
Non-financial relationships: No non-financial relationships have been disclosed.
Return to APR 2022 CCSS S06: Military OneSource: Sources of Support for Military Children and Youth During the COVID-19 Pandemic