Torie Plowden, M.D., M.P.H, F.A.C.O.G.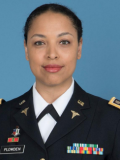 Army Lt. Col. Torie Comeaux Plowden, M.D., M.P.H., F.A.C.O.G. is double board certified in obstetrics/gynecology and Reproductive Endocrinology and Infertility (REI). She has clinical interests in fibroids, infertility and sexual health. She is passionate about eliminating health disparities, expanding access to care and improving fertility awareness to empower women to make informed decisions about their reproductive health. She is active in clinical and epidemiological research with more than 35 publications, 25 oral abstract presentations and 45 poster presentations at national and international meetings.
LTC Plowden graduated magna cum laude with a Bachelor of Science from Howard University. Subsequently, she matriculated at The George Washington University where she earned her Doctor of Medicine degree and a Master of Public Health. She completed residency at Tripler Army Medical Center and a REI fellowship at the National Institutes of Health (NIH). LTC Plowden is an Associate Professor in Ob/Gyn at the Uniformed Services University of the Health Sciences. She also serves as a Lieutenant Colonel in the US Army. In June 2021, she completed her tenure as Chief of the Gynecologic Surgery and Obstetrics Department at Womack Army Medical Center and returned to Walter Reed National Military Medical Center in Bethesda, Maryland where she serves as the Deputy Department Chief and the REI Division Director.

She is the Army Representative for the Women/Infant Clinical Community in the Defense Health Agency. She also serves on the MHS Council for Female Physician Recruitment and Retention. LTC Plowden is a member of the American Society for Reproductive Medicine's (ASRM) Diversity, Equity and Inclusion (DEI) Taskforce, currently serves as the Chair-Elect of ASRM's Access to Care Special Interest Group and is a past Chair of its Health Disparities Special Interest Group. She serves on national committees in ACOG, ABOG, NMA, and AMWA. In addition to her professional obligations, LTC Plowden is a wife and mother and is heavily involved in community service. 
Financial relationships
There are no financial relationships to disclose.
Return to Home Study: FEB 2022 CCSS: Challenges in Women's and Infants' Health