Jeanette Anderson, M.S.N., R.N., R.N.C.-O.B.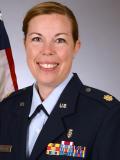 Air Force Lt. Col. Jeanette Anderson graduated from Cedarville University, in Cedarville, Ohio, with a Bachelor of Science degree in Nursing. Following graduation, her Air Force career began as a student in the Nurse Transition Program at Lackland Air Force Base (AFB) in San Antonio, Texas. When Lt. Col. Anderson completed the Nurse Transition Program she entered her first of two clinical assignments in obstetrics and aeromedical staging. Additional prestigious positions and achievements held by Lt. Col. Anderson include: the Perinatal Nursing Consultant to the Air Force Surgeon General and the Principal Investigator for an ongoing research study. Lt. Col. Anderson is a published author in Nursing for Women's Health, a practice journal of The Association of Women's Health, Obstetrics and Neonatal Nurses (AWHONN). Additionally, she has been instrumental in the development of the new Nursing Practice (Peer) Review process where she co-authored seven bundles. Lt. Col. Anderson has served as a Perinatal Clinical Nurse Specialist, in the Maternal Child Flight Labor and Delivery (L&D) Unit at Travis AFB, California and is currently serving as the Director of Clinical Investigations at Wright Patterson Air Force Base, in Dayton, Ohio.
Financial relationships
There are no financial relationships to disclose.
Return to Home Study: FEB 2022 CCSS: Challenges in Women's and Infants' Health