Sally Haskell, M.D., M.S.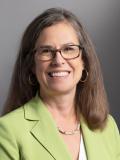 Dr. Haskell is the Deputy Chief Officer for Clinical Operations and Director of Comprehensive Women's Health in the Office of Women's Health for the Veteran's Health Administration, VA Central Office in Washington DC. In this role she directs policy and implementation for Comprehensive Women's Health nationally. Dr. Haskell is based in Connecticut where she practices and teaches General Internal Medicine with a special interest in women's health issues. In addition, she is a women's health services researcher at VA Connecticut Healthcare System and Professor of Medicine at Yale School of Medicine. Dr. Haskell's research interests include gender differences in post-deployment health, chronic pain and musculoskeletal health in women Veterans and gender disparities in cardiovascular risk prevention. She is the author of over 100 publications on womens health and healthcare. Dr. Haskell is also the Director of the VA Connecticut Advanced Fellowship in Women's Health, and the Director of Women's Health Research for the VA Connecticut based Pain Research, informatics, Multimorbidities, and Education (PRIME) Center. She is the VA liaison for the Yale National Clinician Scholars Program. Dr. Haskell attended Emory University School of Medicine in Atlanta, Georgia.
Financial relationships
There are no financial relationships to disclose.
Return to Home Study: FEB 2022 CCSS: Challenges in Women's and Infants' Health