Sarah Temkin, M.D.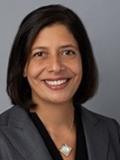 Sarah Temkin, M.D. (she/her), is the Associate Director for Clinical Research at the Office of Research for Women's Health (ORWH). Dr. Temkin provides clinical expertise on issues related to the health of women, specifically cancer control, supportive care for cancer, therapeutics for female-specific malignancies, surgical care, and gynecologic disorders. Her clinical research team oversees the U3 Administrative Supplement Program, as well as the office's interprofessional development program.
Dr. Temkin is a gynecologic oncologist who earned her medical doctorate from Georgetown University, completed her residency in obstetrics and gynecology with the Icahn School of Medicine at Mount Sinai and completed a fellowship in gynecologic oncology at the State University of New York (SUNY) Downstate Medical Center.
She has also had faculty appointments at the University of Chicago, the University of Maryland, Johns Hopkins University, and Virginia Commonwealth University. She has also served in the National Cancer Institute as a Program Officer for the Community Oncology Research Program and as a special volunteer for the Division of Cancer Prevention. She has been active in clinical research throughout her career, with a recognized expertise in clinical trials. Dr. Temkin has served as an investigator for novel therapeutic and supportive care interventions for women with ovarian, endometrial, and cervical cancers.
In addition, Dr. Temkin has thoughtfully contributed to national conversations about cancer prevention and equity in cancer care. In recent years, Dr. Temkin has provided a voice for equity in the physician workforce, specifically attuned to the unique challenges of surgeons and gynecologists who are women.
Non-financial relationship: No non-financial relationships have been disclosed.
Financial relationships
There are no financial relationships to disclose.
Return to Home Study: FEB 2022 CCSS: Challenges in Women's and Infants' Health