William Bolduc, M.S, L.C.S.W., B.C.D.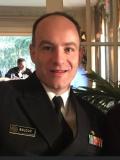 U.S. Public Health Service Capt. William (Bill) Bolduc is a Captain (O-6) in the United States Public Health Service (USPHS). He is the Program Manager for the Clinical Communities and the Clinical Communities Advisory Council in the Clinical Support Division under Medical Affairs.
Prior to coming to DHA, CAPT Bolduc was at the Administration for Children & Families at the Department of Health and Human Services, where he served in the following roles: Operations Chief and U.S. Repatriation Program Manager in the Office of Human Services Emergency Preparedness and Response, and Program Operations Branch Chief for the Social Services Block Grant (SSBG) Program and Community Services Block Grant Program at Office of Community Services, where he also served as a Contracting Officer Representative. Prior to his assignments at ACF, CAPT. Bolduc served as a Senior Monitor for the Mental Health Block Grant at the Substance Abuse and Mental Health Services Administration and an Operations Officer in the HHS Secretary's Operations Center.
CAPT Bolduc has previously served in DOD/Army as Chief of Behavioral Health Services at Womack Army Medical Center Department of Emergency Medicine, Director of Training for the Social Work Internship Program, and Deputy Director of Child and Family Behavioral Health Services at Fort Bragg, North Carolina. 
CAPT Bolduc was also a team commander of a specialized rapid response PHS mental health team.
Prior to active duty service, CAPT Bolduc established a private practice in Waterville, Maine and was a clinical director of a community mental health center there. He has also worked as a crisis intervention specialist and has extensive experience in school-based social work and psychiatric social work. He lived and worked in Osaka, Japan for two years and established a counseling practice for foreigners living overseas.
CAPT Bolduc earned a Bachelor's in Psychology from Hofstra University, a Master of Social Work from Boston University and a Master of Science in Health Policy and Management from the Muskie School of Public Service at University of Southern Maine. He also recently graduated from the Naval War College Fleet Seminar Program.
Non-financial relationships: No non-financial relationships have been disclosed.
Financial relationships
There are no financial relationships to disclose.
Return to APR 2022 CCSS: Military Children and Youth: Extending Force Protection to our Nation's Most Valuable Assets