Antoinette McAllister-Blyden, M.S., C.C.C.-S.L.P.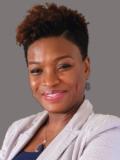 Ms. Antoinette Mc Allister-Blyden has been practicing in the field of Speech and Language Pathology for fifteen years.
She holds a Bachelor's of Science Degree in Biology from Medgar Evers College and a Masters of Science Degree in Speech and Language Pathology from New York Medical College.
As an Educational and Developmental Intervention service (EDIS) Early Intervention Provider for approximately six years, she brings a wealth of experience to the military community she serves, as the spouse of a U.S. Army veteran, as well as professionally. She has a solid background working with children deemed to be developmentally delayed and/or medically fragile in both the early intervention and pre-school settings.
Ms. Mc Allister-Blyden is passionate about empowering the families she serves with the knowledge and resources gleaned over the years while working collaboratively with professionals of diverse areas of expertise. She is earnestly interested in working closely with families, as well as assisting support professionals through trainings and in-services.
Non-financial relationships: No non-financial relationships have been disclosed.
Financial relationships
There are no financial relationships to disclose.
Return to APR 2022 CCSS: Military Children and Youth: Extending Force Protection to our Nation's Most Valuable Assets