Patti Johnson, Ph.D.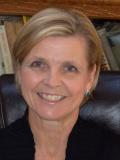 Dr. Johnson received her Ph.D. in Clinical Psychology from the State University of New York at Stony Brook. She completed her Predoctoral Internship at Ft. Ord, CA, and a Pediatric Psychology Postdoctoral Fellowship at Tripler Army Medical Center (TAMC) in Hawaii. During her 20-year active duty Army career, she served as the Director of Training for the Clinical Psychology Internship Program at TAMC, as well as at Walter Reed Army Medical Center. She was also the Training Director of the Army's Pediatric Psychology Postdoctoral Fellowship Program at Madigan Army Medical Center for 10 years. She currently is the Program Manager for DHA Child and Family Behavioral Health. In this capacity she oversees the development and implementation of behavioral health policies and programs for children and families, to include standardized training programs for behavioral health care providers and primary care providers serving military youth. Dr. Johnson was previously a Co-Chair of the American Psychological Association's (APA) Committee on Children, Youth, and Families, is an Accreditation Site Visitor for APA, and has been an active member of the Association for Behavioral and Cognitive Therapies. Her interests include the impact of deployment on children and adolescents, strategies to help youth cope effectively with adversity, and the dissemination of evidence-based treatment models for children and families.
Non-financial relationships: No non-financial relationships have been disclosed.
Financial relationships
There are no financial relationships to disclose.
Return to APR 2022 CCSS: Military Children and Youth: Extending Force Protection to our Nation's Most Valuable Assets